When it comes to packing up your home, some things come easier than others, right? Think about how easy it is to pack up small items such as picture frames or lamps. You grab some bubble wrap and tape and get to town. Clothing and softer items like towels and washcloths can be stashed away with relative ease as well. Plus, you have options. They actually make hanging boxes so you can simply transfer items on hangers from your closet and put them directly on the hanger in your box. It's so easy! However, there are some things in your home that just don't make the cut when it comes to ease. These generally include large furniture pieces like bed frames, dressers, and the like. Sure, you can break some of these items down and reinstall them once you're moved, but it's still not an easy-breezy task. This is just one of the many ways A Mother's Touch Movers can help you! Did you know we specialize in moving hard to tackle household items in Melbourne, FL? We've got you covered from start to finish with your Melbourne, FL move because we offer specialized services catered specifically to your needs.
One item that brings a ton of stress to homeowners when it comes to moving is the dreaded couch. Think about it. It is large and cannot be taken apart. You can usually remove the cushions to take off a smidgeon of weight, but not much. If yours is a sleeper couch, forget about it! Couches are just plain heavy and incredibly awkward, AND if your door frames are small, they are bound to be a source of moving frustration.
Sound familiar? If so, let A Mother's Touch Movers give you some tips on the proper moving supplies. This may seem like we're thinking a few steps ahead, but you cannot move your couch if you do not have the proper supplies to do so. Be sure to gather what you need BEFORE you start the process. Here is what you will need:
Furniture Sliders
These handy tools are available almost anywhere and slip underneath cumbersome pieces of furniture, allowing you to slide the piece without damaging your floor. They work on hardwood, carpet, tile, and more. Trust us, you will want to snag a few of these before you begin.
Furniture Dolly
Don't underestimate the simplicity of this device. You can transport extremely heavy furniture (think thousands of pounds).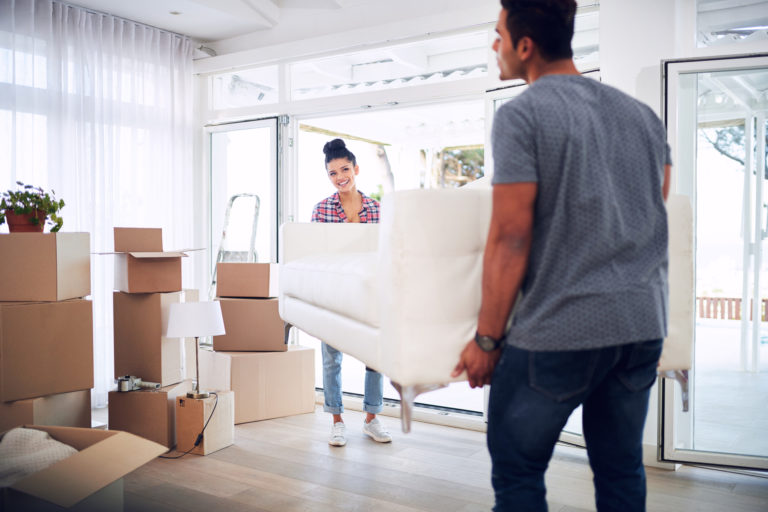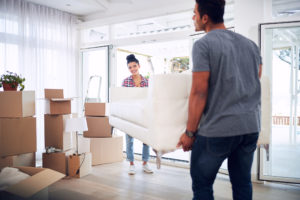 Wrapping Supplies
Once you've disassembled your couch, you will want to use an assortment of wrapping blankets, plastic wrap, and bubble wrap to protect it from damage during the move.
Friends and Family
Yep, if you aren't using a moving service, you will certainly need assistance to get the couch out of the room. Call in your favors and get to work!
Once you've collected your supplies, it is time to put them to work for you. Begin by disassembling your couch. This step includes removing any cushions and feet that are capable of coming off. Once you complete this step, begin by wrapping your couch with furniture blankets. You can purchase these almost anywhere and some stores allow you to rent them for a day of use. Once covered, look for any hard edges that need to be protected. This is where bubble wrap comes in handy.
Now that your couch is protected, it's time to get moving. Place sliders underneath the legs and gently and slowly move the couch closer to the door if necessary. You may be able to upturn the couch and get it out the door with sliders alone. If not, gather your moving buddies and lift the couch and place it on the dolly. Roll the dolly to the exit and then get ready to lift. With all hands on deck, safely transport the couch to the moving truck. Here, you can put the couch back on the dolly and push it up the ramp or attempt to carry it the rest of the way. Whatever you do, work smart and be safe.
As you can see, moving a couch is not for the faint of heart. We would love to help you with this arduous process as well as assist you with any other moving needs you may have. If you're in Palm Bay, Merritt Island, or Viera, contact our moving company today for more info!