Whether you are moving office or your business across town or across the state there are key differences than when you are moving the contents of a home.  Commercial movers in Melbourne are in high demand due to the inconsistency of the pandemic.  Many business owners are moving to a smaller office space because more employees are working from home.  Others are entrepreneurs who found a new way to grow their businesses during Covid-19.  So, whether you are upsizing, rightsizing, or downsizing your office space, here are some things to know in advance of the process.
5 Tips for successful business relocation or moving office
Below you'll find five quick tips for a successful business move, but this really is just a start.  If you own your own business, hiring a reliable professional moving company in Florida will likely give you a less stressful experience so you can maintain your focus on your profits, clients, and consistent reputation. Don't be the organization that has to say, "We couldn't get to it because we were in the middle of moving, or we're sorry, but your file was lost in the move."
#1 – Clean out all office drawers and cabinets.
Do not waste your time or your employees' time packing, moving, and unpacking JUNK!  Your time is money, your trash is not.  If you are hiring a professional commercial mover, make sure your employees pack their personal items – photos, keepsakes, and office décor – separately.  They should either take those items home during the move or place them in a properly labeled box for their new workspace to ensure it is not confused with their coworkers' personal items.  As a business owner, you probably don't want to absorb extra moving costs of your employees' personal items.
#2 – Moving electronics.
Electronics, office technology, equipment, and machinery are temperature sensitive, expensive, fragile, composed of many parts, and often heavy.  Ensuring the vital hardware and software which helps you run a successful business makes it from point A to point B is critical.  Preparation and proper or professional packing can save you both headache and dollars in the long run.  You'll need many supplies if you do it yourself. If you do secure a professional moving company, they will have all of the most reliable and necessary supplies.
Bubble wrap, lots of it.
Labels – plenty of self-adhesive labels to make sure each piece of equipment arrives with its proper cables, power cords, etc. and is delivered to the proper office or room.
Sharpies – permanent markers not subject to dry erase, fading, or smearing.
Heavy duty packing tape with a razor edge (or several pairs of scissors).
Solid, durable bottom cardboard boxes.
Padded packing blankets or padded sheets for the most fragile items such as computer monitors, projector screens and bulbs, routers, oversized printers, contents of server closets, etc.
Zip ties are helpful in keeping cords and cables intact and untangled. The last thing you want to unpack is a box of knotted cords reminiscent of that dreadful box of Christmas lights in your attic.
#3 – Safeguard confidential and original documents.
Most often your more sensitive documents have already been saved and password protected to the Cloud, I-Drive, or other network saving device. However, some originals such as dignitary photos, frame-worthy media articles, autographs, or company recognitions must be kept in their purest form.  Be sure to safeguard those high-priority and confidential client documents in a file box or waterproof or fireproof safe to protect them from loss, exposure to the public, or other destruction.  Remember where you placed these items in the move, particularly if they need to be instantly accessible.
#4 – Moving office furniture.
Again, first ask yourself, "Is this junk?"  There is no need to move torn leather chairs or items with dysfunctional wheels, desks with broken drawers, or long defunct computer equipment.  Save yourself the time and money by donating aged but good condition items, recycling environmentally hazardous products, and only take what you know will be used in the new location.  Most professional commercial movers are true experts in disassembling furniture, securing all the parts and pieces, and reassembling in a flash.  If you are doing it yourself, have multiple Ziploc bags in a variety of sizes to safekeep the screws, nuts, bolts, etc.  Affix the Ziplock bag to the furniture item to ensure you have the proper parts when you are ready to put it back together.
#5 – Organize everything with labels.
If you typically feel like your coworkers who color code everything, or who relentlessly use electronic labels are a bit over-the-top, you'll fully appreciate them when it comes to moving your office contents.  Whether your commercial move in Florida is an office, a building, a complex, or a campus, knowing what goes where will reduce your moving frustration by volumes.  Another tip when labeling is to be very specific.  Note not only where the items go (ex. first floor break room) but also listing the contents (ex. microwave, paper products, and coffee supplies) will be extremely helpful to those helping to unpack.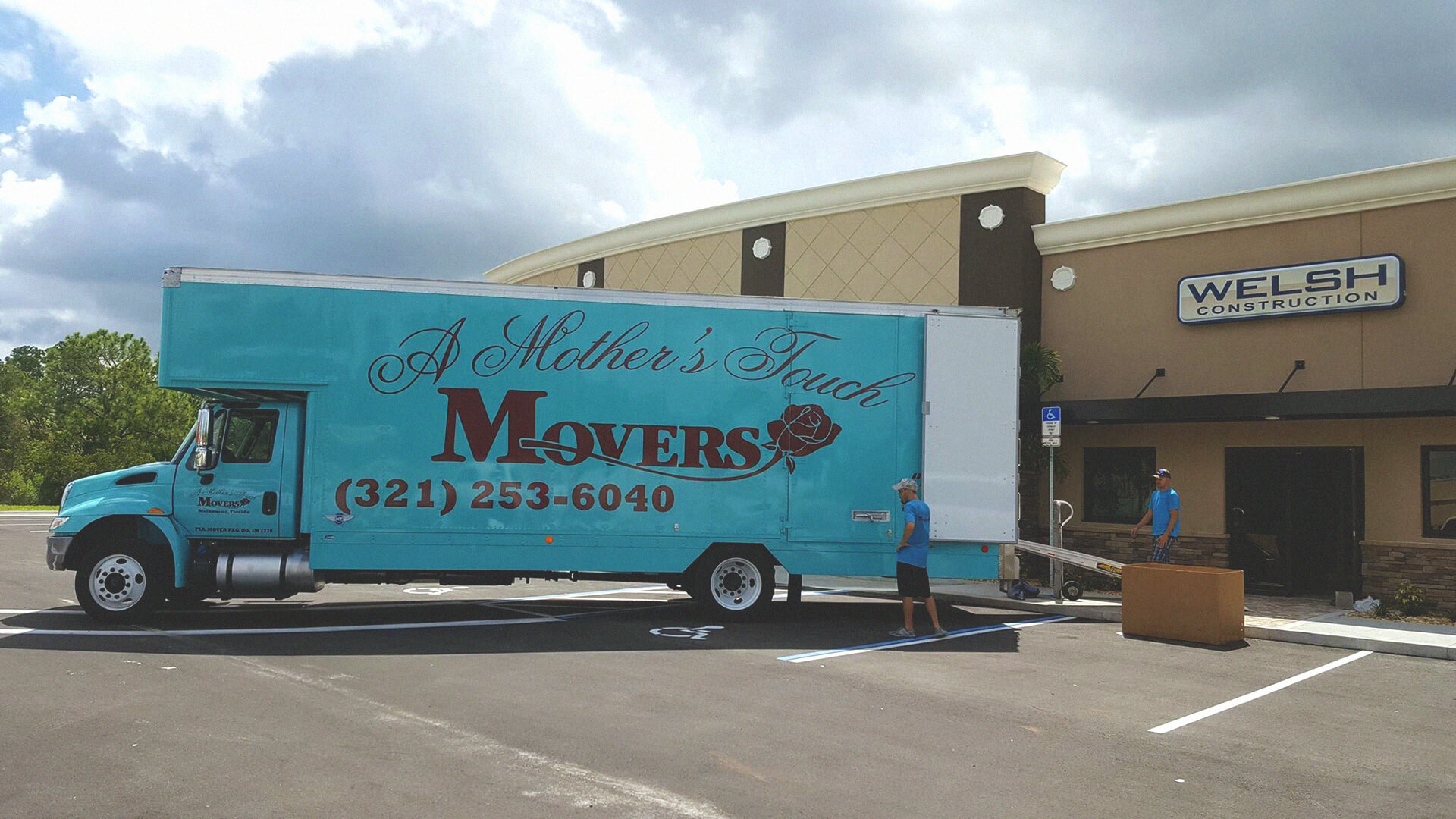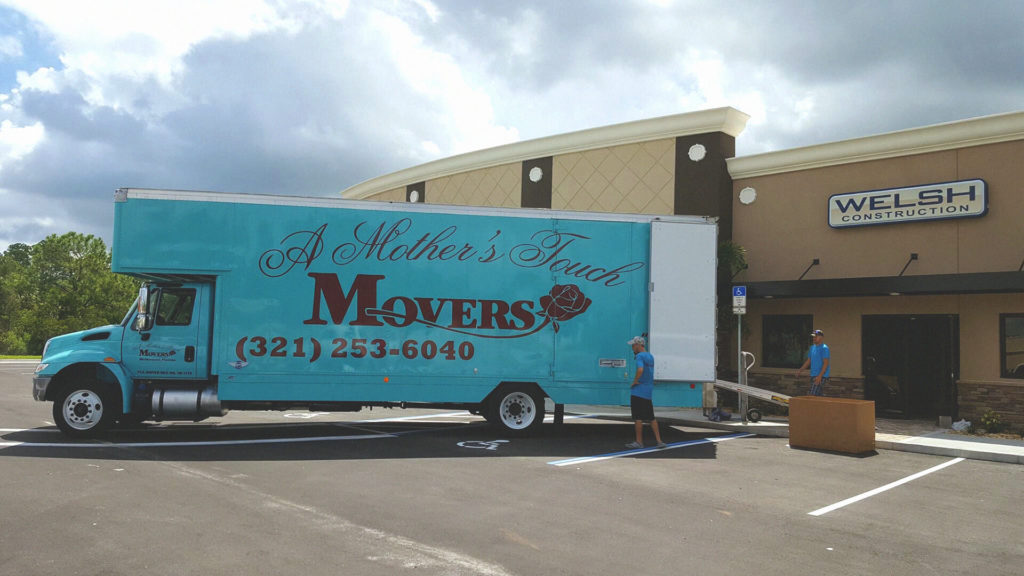 A Mother's Touch Movers in Melbourne, FL Leads the Pack in Commercial Moving
A Mother's Touch Movers has comprehensive knowledge and experience of what it takes to not only moving office, but what it means to keep your company organized and productive during the process. Relocating staff and employees can be a complicated process. We are dedicated to the ever-changing needs of our commercial moving clients to ensure every aspect of the move goes smoothly.
Based in the Melbourne, FL – A Mother's Touch Movers are Florida's trusted commercial movers.  Whether you are moving office across the street or across the county, A Mother's Touch Movers can be a valuable resource in this process. We handle all the details of commercial and corporate moving, providing a quality experience for transferring employees. Our office relocation services are comprehensive, ensuring every single need is met and every expectation is met and exceeded. Our full-service move offers packing, crating, storage, vehicle shipping and can be customized to meet your office's needs.
Call A Mother's Touch Movers, the premier commercial movers in Melbourne, FL today for a free estimate and we'll get your office mov moving affordably and stress free.