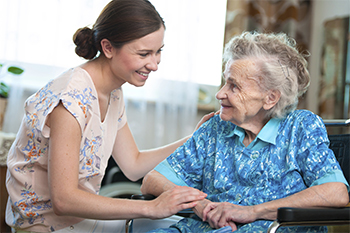 You've decided it's time to look for an assisted living facility. It's a life changing decision that should not be taken lightly. Since it's a move you've likely never made before, your Palm Bay moving company wants to help you in your move to the right senior care facility.
Choose a community based on your parents' tastes and convenience, not your own. Finding the closest community possible isn't always the best fit. You may have every intention of visiting your parent every day, but ultimately it's a bit unrealistic.
Besides, your loved one will be involved with lots of community activities. So, a community that is slightly further away may turn out to be a much better decision for the both of you.
Be realistic about the future. It's important to anticipate the future needs of your loved one when considering a senior care facility. In the best case scenario, you'll select a community that will offer care today and also well into the future. Moving from facility to facility is not only a hassle – a costly one, at that – it can also be emotionally and physically damaging to the senior.
If the senior suffers from dementia, adapting to move after move can become very difficult, even traumatic. Which makes it crucial to select a living facility that is capable of offering the level of service required not only now, but well into the future.
When you're scouting facilities, take your time. If you have the chance, speak privately with the residents and staff to gauge their happiness and satisfaction. A community of happy residents and staff is what really you're looking for – not the appearance of the building. Before you sign a long-term contract at a facility, consider arranging a trial stay. Some communities even offer them for free for qualified perspective residents.
Read the fine print of the contract. Most assisted living contracts are straightforward, but can still contain confusing legal jargon, or levy additional fees that aren't always obvious. Assisted living facilities use many different price structures. Some may change a fee for room and board and a separate fee for care. Some don't charge a care fee, but instead charge an "all inclusive" price. Some may charge for each service individually or they may charge based on the level of care the nursing staff determines is needed.
There may also be an entrance fee, fee for laundry service, medication delivery, medical supplies and more. Also, many communities raise rates at 5% annually. So, make sure to understand the contract. And if you don't, consider reviewing the contract with an elder attorney.
This is a big decision, so try to get input from multiple perspectives. Find friends who have gone through the process, find siblings, or even consider a senior advocate to help you find the right facility.