If you have ever owned a pet, you know that no matter how hard you (or they) try to prevent accidents, they will occur. You also know just how frustrating it can be to clean up after an accident whether it be an ill-timed potty break or the always pleasant accidental vomit. There isn't anything much worse, right? For all the love and joy that pets bring to your home, they can also be the source of countless messes that need your immediate attention, especially when you have your house listed for sale. You cannot forget to clean up those pet stains when potential buyers are on their way to your home. If you do, the smell alone could stop a would-be buyer in their tracks. Listen, we totally get it. A Mother's Touch Movers has had the honor of assisting so many of you with your Melbourne, FL moves. We know that you want everything to be just right inside your home so that when the perfect buyer comes along nothing is standing in their way. We also know that you don't relish the idea of urine stains on your freshly cleaned carpets either. If you are struggling with ways to clean up after your pet, keep reading. We've got some solutions for you!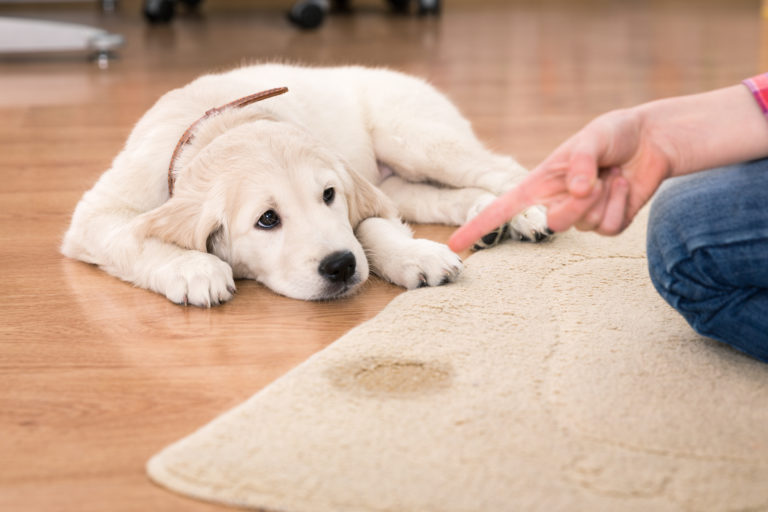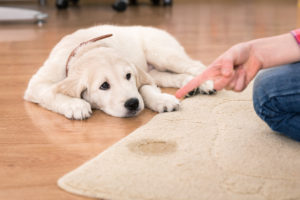 DIY Carpet Cleaners
Let's talk about carpet. If you have carpet in your home, you know how easily stains can set in. Once this happens, it's hard to get anything out. It is important that you treat pet urine stains immediately. If you don't catch them in time, the odor will permeate the carpet fibers and that is no good! When you see the wet spot, first place a towel or a couple of paper towels on top to soak up as much urine as you can. Once this is done, you can use a solution of 2 cups of warm water to 2 cups of vinegar and an additional ¼ cup of baking soda to clean up the mess. Combine these ingredients into a spray bottle and heavily coat the area. Allow it to sit for about 15 minutes and then use a towel to soak up the solution. If home remedies just won't cut it, you can use a store-bought solution too. If all else fails, coat the area with baking soda and give that go.
Store-Bought Cleaners
Has Fido ever waited too long to let you know he has to go? Rather than trying to get your attention, he finds the first surface available to find relief…your furniture. Pet stains on furniture can bring a lifetime of stinky to your home, but if you find them in time, you can get relief. Daily Puppy suggests that you first attempt to soak up as much of the urine as possible and then cover the affected area with an enzymatic cleaner. These are products that are non-toxic and biodegradable yet powerful at breaking down stains without all the additional chemicals associated with cleaning products. They work great on pet stains too! It's a win-win for everyone. You will want to avoid any cleaners that use ammonia because it can encourage your pet to continue to urine in that same spot. If there is any residual scent left over after cleaning, cover the area with baking soda and let it sit for several hours.
Your home is most likely your pride and joy. So is your pet. You can have the best of both worlds even if your furry friend has an accident indoors. Prompt attention and the right cleaning products will make all the difference. And remember, if you need a reliable moving company in Merritt Island, Palm Bay, or anywhere in Brevard County, call A Mother's Touch Movers!