Moving can be an expensive endeavor if you are not properly prepared. No matter how much you prep for your move, unforeseen expenses can creep up. Of course, A Mother's Touch Movers is here to help you streamline your budget with the best moving services in Melbourne, FL. We've got you covered from start to finish with all the packing supplies you could possibly need and the professional muscle to help you load up and move in and everything in between. So, what do you do when you need to wrestle up some extra cash for your move? How do you handle all the stuff that is still in great shape and in working order but you just do not want to take it with you to your new home? What if you have the move covered from a financial standpoint but wouldn't mind some additional funds to purchase new décor for your next living space? We've got the answer: a moving sale.
Moving sales can be a great way to earn extra income for whatever you may need. Whether it's spending money or moving support, you can turn your stuff into big bucks utilizing a few simple steps and help from others. Let's take a look at the best ways to go about having a moving sale of your own.
Get Others Involved
The more you have at your sale the better! If you live in a neighbored that hosts an annual garage sale around the time of your move, piggyback yours onto this one. It's a guaranteed way to get customers with virtually no groundwork of your own. We have all seen the devoted garage sale shoppers who comb through the goods of others every weekend. These steadfast shoppers are waiting at the gates from the start and they could be your ticket to more money.
If you don't live in a neighborhood or yours isn't having their annual sale at the right time, talk to friends and neighbors about having a multi-family sale at your house. Almost everyone you know probably has a stash of things they've been meaning to get rid of for some time and could use the opportunity to join you.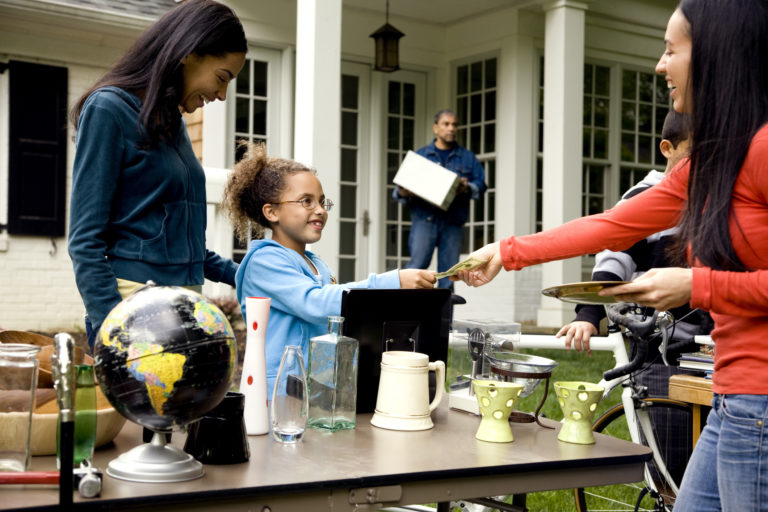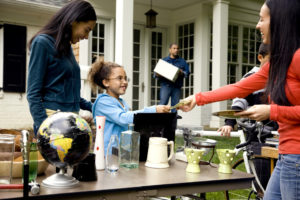 Get Organized
The more organized you are, the easier your garage sale will be. Before you set out your items, group them by type. For example, place all your kitchen items in one place. Set clothes in bundles or on racks according to price. This will help buyers easily see what you have and whet their appetites because they don't have to do the work of digging through all of your sale items.
Price Beforehand
You can accomplish this step as you set out your items. You can purchase small stickers with a list price already on them or you can write the price out yourself. Another idea is to have all items for a specific price in one spot and use a large sign to designate the amount. The key is to have a system and be consistent.
Market Your Sale
This is a step you do not want to miss. You can always place posters on main roads close to where you live indicating your sale, but don't wait until the night before. Thanks to websites like Facebook and Instagram you can post your sale on your personal pages and on community sites. This is a great way to get the word out with little to no expense on your part. While newspapers are a bit antiquated, you may want to put an ad in the classifieds too. It never hurts to spread the word.
Have a Backup Plan
You've picked the date. You are ready to go…and then the forecast changes from sunny skies to 100% chance of rain. This is a definite bummer but it does not have to put your sale on hold. Do you have a garage you can transfer your items too? Is there a local community center nearby that would let you use rented space? Be sure to check around before you lose hope.
Garage sales and yard sales are a great way to rid yourself of items that you no longer need or want. If they are in good condition and you are willing to part with them, why not go for it? And when it comes to finding the best moving company in Brevard County, whether you're in Merritt Island, Palm Bay, or Viera, call A Mother's Touch Movers.